It is the brainchild of Conservative Way Forward, a pressure group set up the year after Thatcher left Downing Street in 1990 and which she headed until her death last week.
Called the Margaret Thatcher Library, the museum will run training course to educate the next generation of politicians in her core beliefs such as low taxation and the primacy of the free market. It will also run exchange programmes with the US and elsewhere.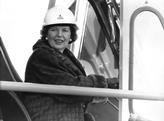 It expected to be based on the Ronal Reagan Presidential Library and Museum in California and would be the first of its kind in the UK.